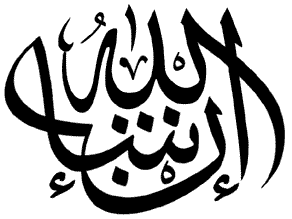 The word "Inshallah" in pretty Arabic script.
One of the most oft-heard words in my local mosque is
Inshallah
. It means God willing, and if one can understand how the really religious could use it with many everyday sentences. I'm going to the grocery store - God willing. My flight will leave at noon, God willing. I hope you like the dinner, God willing. I say this word too when the situation calls for it, but I more often say the English translation. Unfortunately, it seems to me that it's sometimes used in ways that don't exactly mean 'God willing.'
First, I noticed that sometimes people use it to mean "maybe" or perhaps more akin to "maybe, it's really not in my hands, it's all God's will." Which would be fine if that were the case. Like if I were asking what the weather would be like tomorrow, "Inshallah, it will be nice," would be an appropriate response. But when I'm asking when you'll return my borrowed book? Something entirely within your control? "Inshallah, soon," often seems to really mean "hmm, maybe I'll remember it in a month or so." (True story, unfortunately.)
I've also noticed that it's often just a filler word or even
superstition
. As if you have to tack on "inshaAllah" on all your sentences or something bad might happen. I've heard some people pepper their sentences with inshaallahs so much that it becomes desensitizing, and the listener almots doesn't even hear the word anymore. One time I heard a speaker use three 'inshallah's in one sentence. In one thirty minute talk I attended during college, I counted one woman say it 41 times. I have no idea what she was even talking about I was so distracted by all the inshaAllah's flying around.
The inshallah use that really gets me is when it's mindlessly used as if it were punctuation. Just a word you have to tack onto the back of every sentence. A recent example: during the Friday religious services in the week leading up to
Ramadan
, one of our mosque's speakers was telling the congregation about when and where Tarawih prayers would be held. Our mosque actually rents a hall from the local synagogue and holds Friday prayers and Tarawih prayers there - both places are really dedicated to interfaith dialogue and involvement. The speaker was *
trying*
to explain that Tarawih prayers, the late-night extra group prayers held every night during the month of Ramadan, would NOT be held at the synagogue on Friday nights because the hall at the synagogue was not available for use on those evenings. On those evenings they held their own services for Shabbat. 
But here's how he said it: "Tarawih prayers will not be held at the synagogue on Friday nights, inshaallah."
What?! God willing, there WON'T be any prayers there? Now that really doesn't seem like an appropriate use of the word!